We offer series production of flat gaskets
We offer series production of flat gaskets on hydraulic and mechanical presses and CNC machines. We are able to produce gaskets of complex geometric shapes and large dimensions, with a self-adhesive layer, in one piece or also from segments.
DIE CUT
Basic quality production technology for thousands to hundred thousands of series.
Die cuts up to an outer dimension of 500 x 500 mm and a material thickness of up to 10 mm.
Seals are cut out on different types of hydraulic presses. Our machine park includes standard C-shaped presses, bridge presses and also a CNC bridge type semi-automatic punching machine. Cutting tools vary by type of production and quantity. Upon agreement, they can be supplied by the customer or by us. Our production plant has at its disposal a large archive of punching tools.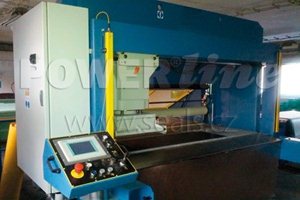 CUTTING ON CNC PLOTTERS
Piece and small-series production of flat gaskets in a whole and also in segments.
Manufacture of flat gaskets with self-adhesive layer, self-adhesive lamination.
Cutting large size gaskets up to 10 000 mm in a whole.
Available technology especially for complex geometric shapes.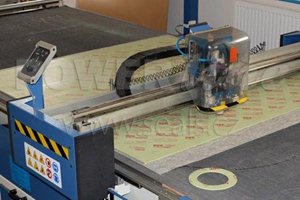 BY WATER JET
For large and small series.
Especially for complex geometric shapes.
Useful for manufacturing from materials that are difficult to die cut - e.g. plastics and rubber with a thickness of more than 20 mm.