POWERflon BG-S
Gasket sheet of multi-directional expanded 100%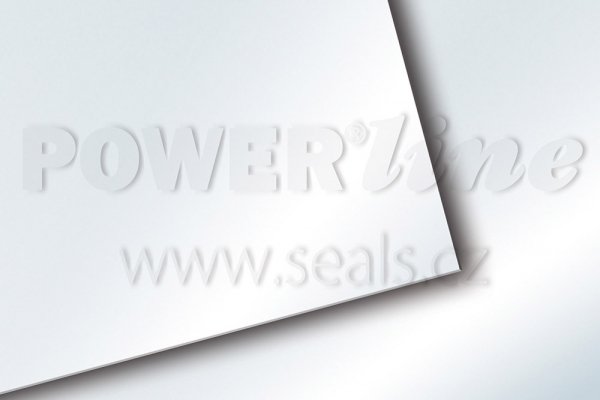 Gasket sheet of multi-directional expanded 100% "virgin" PTFE. Same cold creep resistance in all directions. Only the thickness changes under load (the width and the length do not change).
Suitable for brittle or damaged flanges with uneven surfaces.
Glass, enamel, ceramic and plastic flanges.
Dimensions:
Thickness:
0.5; 1.0; 1.5; 2.0; 3.0; 5.0; 6.0 mm
| Quantity | Value |
| --- | --- |
| Min. operating temperature | -268 °C |
| Max. operating temperature | +260 °C |
| Operating pressure: | vacuum to 200 bar |
| pH: | 0 - 14 |
| Compressibility (ASTM F 36): | > 45 % |
| Recovery (ASTM F 36): | > 10 % |
| Gasket factor "M" ASTM: | 2 (for 3.0 mm thickness) |
| Minimum gasket stress "y stress" ASTM | 2800 psi (for 3.0 mm thickness) |
Gaskets cut from POWER®flon BG-S are easily inserted between flanges that can not be opened too much
The gasket used can be easily removed without leaving any traces on the sealing surface
Due to excellent pliability it is not necessary to repair minor damages and unevenness
Extremely versatile use due to exceptionally good chemical and temperature resistance
Less risk of choosing a wrong gasket material because POWER®flon BG-S can be used for most applications in operating equipment
Longer service life of gaskets
Low storage costs, unlimited life span
POWER®flon BG-S is not harmful to health, is without taste and odour, and is not toxic. Does not contain asbestos or other substances that damage the lungs. It is not susceptible to attacks by microorganisms or moulds.
In order to improve the quality of our input control of materials for gasket production, we have purchased a tensile testing machine.
Now we are able to:
Check the mechanical properties of purchased materials.
Verify the values stated on the supplier's materials sheets.
Check the dimensions, hardness and quality of the material surface.
Guarantee the customer's required parameters.